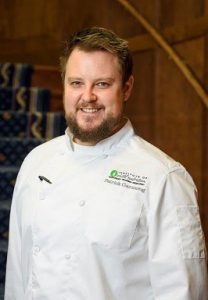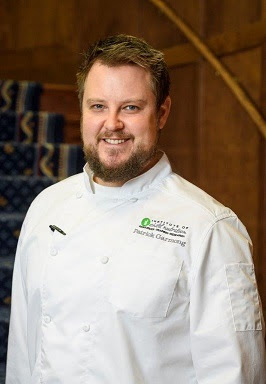 In response to a growing demand for culinary trainings and resources in school nutrition programs, ICN and USDA have collaborated on the the School Nutrition Culinary Institute (SNCI) initiative.  The SNCI aims to develop and disseminate culinary trainings and resources to support SN directors, managers/supervisors, cooks, and chefs to enhance their job-based knowledge and skill set.
Introducing Patrick Garmong ICN's Associate Director of Culinary Education and Training
Chef Patrick comes to us from Ellensburg, Washington where he was the Child Nutrition Director for the Ellensburg School District. He cultivated a heavy focus on fresh, from scratch based meals and emphasized a farm to school initiative. One of his greatest achievements during his more than four years with ESD was creating community partnerships and relationships to help reduce hunger in the community.
Patrick's impressive and inspiring resume shows his dedication to providing quality, fresh meals and working towards innovative food programs wherever they are needed.
When Patrick is not in his chef coat, you can find him waterfowl hunting, woodworking or outside enjoying some yardwork.
Chef Patrick also enjoys spending time with his family. When asked about his wife, Rachel, he said, "She really is the foundation of our family and I could not imagine a better partner in life." They have two sons, Grady and Beau and enjoy how busy the boys keep them!
What excites Chef Patrick the most about working at ICN?
"The impact the organization has in the daily lives of children. There are so many lives we can touch in just one day through the resources that ICN provides that we will never be able to fully comprehend how much of an impact we make on the children in our country. Child Nutrition Professionals are often the unsung heroes of the education world. They work tirelessly to ensure the children of our nation are fed healthy and nutritious meals using the resources they have available to them. Helping our Child Nutrition Professionals by providing them with the resources needed, while further developing the skills they need to feed our kids is rewarding and humbling vocation; one I am honored to be a part of."
Welcome, Patrick!