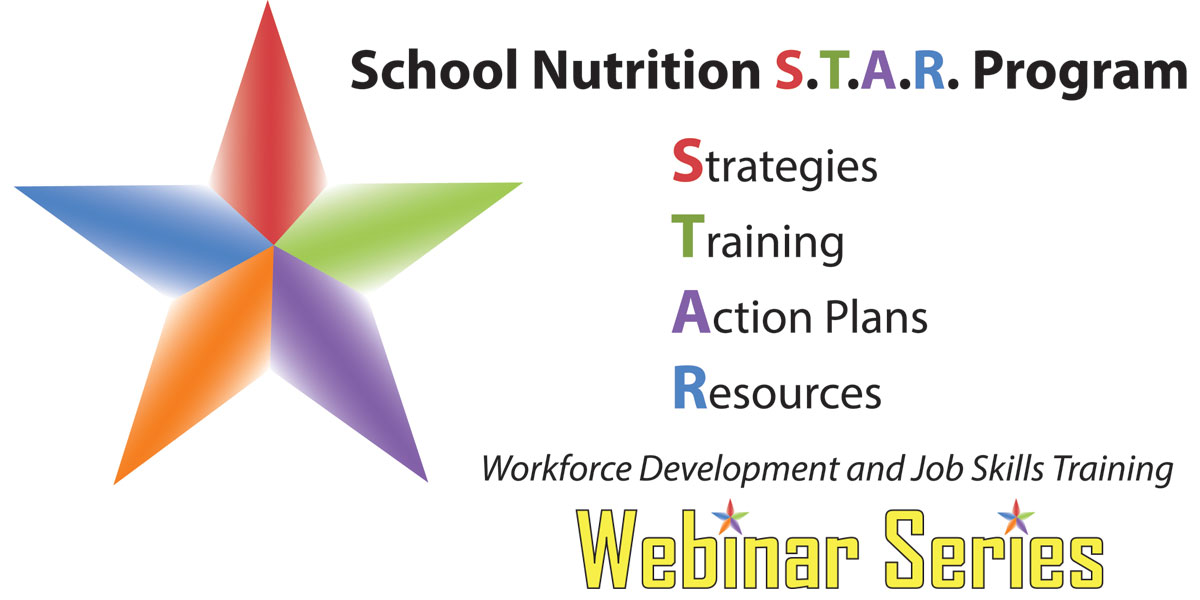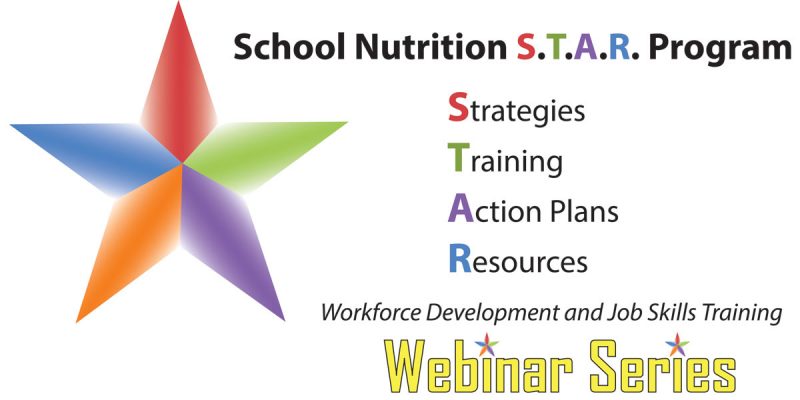 The School Nutrition S.T.A.R. webinar series will feature school districts that have implemented creative strategies and best practices for common school nutrition topics as well as allied organizations who develop and offer free resources to support school nutrition programs.
S.T.A.R. Webinar for May 2019
Nutrition Education Strategies to Promote

Fruit and Vegetable Consumption
Key Area: Nutrition
Training Topic(s): Nutrition Education (1200)
Learning Objective(s): At the end of this webinar, attendees will identify strategies to utilize nutrition education curriculum within the school nutrition program.
Thursday, June 27, 2019 / 3:00-4:00 PM ET (2-3 PM CT; 1-2 PM MT; 12-1 PM PT)
Fruit and vegetable consumption provides essential nutrients vital for the health and maintenance of our bodies. People who consume a variety of fruits and vegetables on a regular basis, and as a part of an overall healthy lifestyle, are likely to have a reduced risk of some chronic diseases. Yet, according to the 2017 CDC's Morbidity and Mortality Weekly report, "Fruit and vegetable consumption among American youth is low; just 9% of high school students meet the fruit recommendation, and only 2% meet the vegetable recommendation." As school nutrition professionals, what are strategies that will promote fruit and vegetable consumption? Theresa Stretch, MS, RDN, CP-FS, an Education and Training Specialist from the Institute of Child Nutrition, will discuss general nutrition education strategies for specific grade groups. Tammy Alvarez, Food Service Coordinator, Marion County Public Schools, will describe innovative nutrition education strategies to promote fruit and vegetable consumption.
Meet the Webinar Speakers:
Tammy Alvarez, MS, RDN/LDN, SNS Food Service Coordinator
Marion County Public Schools Osceola, Florida
Theresa Stretch, MS, RDN, CP-FS
Education and Training Specialist II
Institute of Child Nutrition
School of Applied Sciences, University of Mississippi
Past School Nutrition S.T.A.R. Webinars
Subscribe to S.T.A.R. Webinars
Sign-up to receive notifications of upcoming S.T.A.R. Webinars, training and resources.