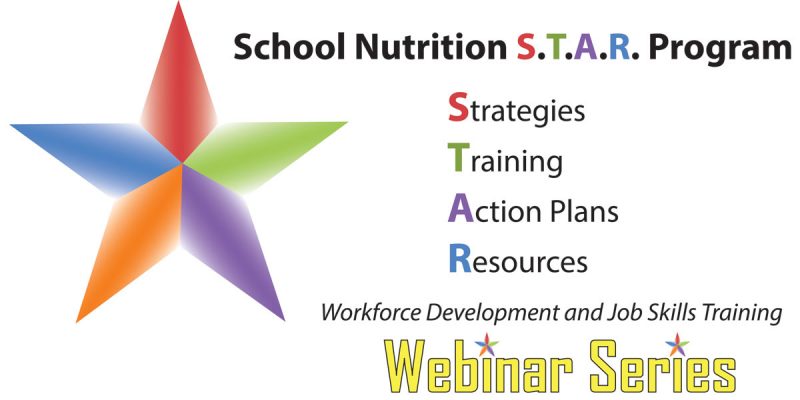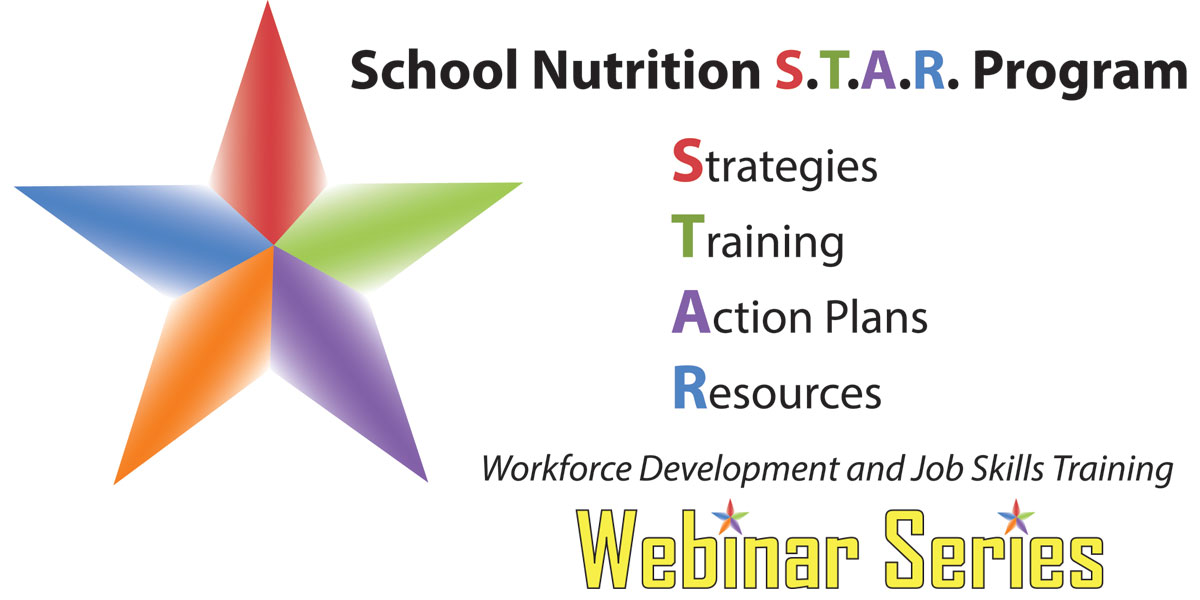 The School Nutrition S.T.A.R. webinar series will feature school districts that have implemented creative strategies and best practices for common school nutrition topics as well as allied organizations who develop and offer free resources to support school nutrition programs.
August 2019 S.T.A.R. Webinar –  Strategies That Promote a Culture of Food Safety
Date: Thursday, August 29, 2019
Time: 3:00-4:00 PM ET (2-3 PM CT; 1-2 PM MT; 12-1 PM PT)
SNA Key Area(s) Key Area: 2 Operations
Objective
Attendees will identify strategies that promote a culture of food safety behaviors in the school community.
Description
A food safety culture exists when food-safe behaviors are second nature to the members of your school community — your school nutrition team, school administrators, teachers, parents, and students – and these behaviors are consistently practiced to help keep students healthy and safe. Liz Dixon, ICN's Food Safety Education and Training Specialist, will describe strategies that promote a food safety culture; and Kristin Parvin, a Site Supervisor with Independence School District in Missouri, will discuss ways to put those strategies into action.
Panelist(s) 
Liz Dixon, M.S., Education and Training Specialist
Institute of Child Nutrition
Liz Dixon is an Education and Training Specialist at ICN with over 14 years of experience related to nutrition and health. She has a Masters in Food, Nutrition, and Culinary Sciences from Clemson University and a Bachelors in Nutrition and Food Science from Auburn University. She is certified in Designing Learning and Writing for Instructional Design and Training from ATD Education. She is also an ACE-Certified Health Coach and Personal Trainer, AFAA-Certified Group Fitness Instructor, and a certified Zumba Instructor.
Email: ejdixon@olemiss.edu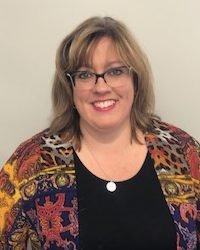 Kristin Parvin, Site Supervisor
Independence School District, Independence Missouri
Kristin Parvin is the School Nutrition Site Supervisor for the Independence School District in Independence Missouri. Kristin attended the Johnson County Community College Culinary Arts Program. After 5 years of successfully managing a deli in Kansas City, and then serving as a Food Service Director for the Metropolitan Community College at Longview, Kristin had the opportunity to become a Site Supervisor for the Independence School District. She supervises 30 nutrition centers which also include full-service catering and a cafe. She is passionate about sharing knowledge, encouragement, and the skills it takes to have a successful school kitchen and staff.
Past School Nutrition S.T.A.R. Webinars
Subscribe to S.T.A.R. Webinars
Sign-up to receive notifications of upcoming S.T.A.R. Webinars, training and resources.