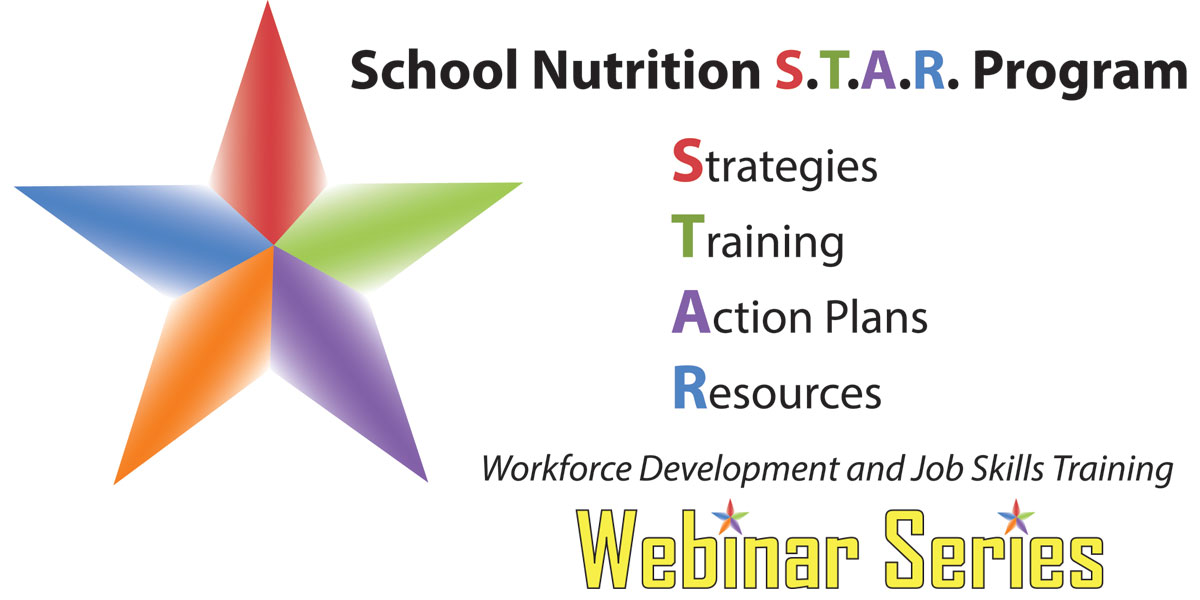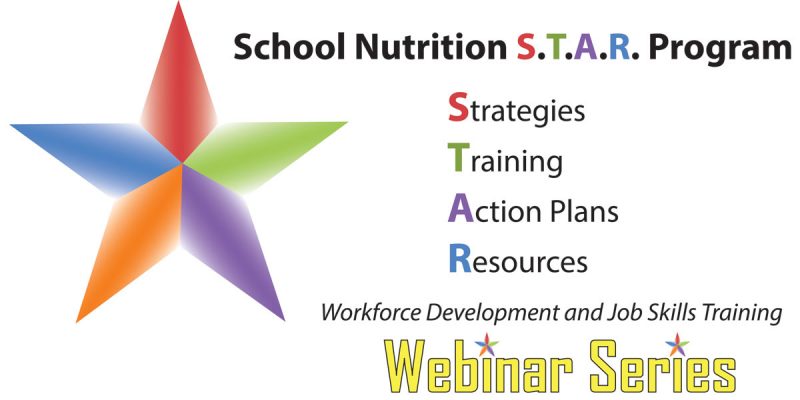 The School Nutrition S.T.A.R. webinar series will feature school districts that have implemented creative strategies and best practices for common school nutrition topics as well as allied organizations who develop and offer free resources to support school nutrition programs.
Upcoming School Nutrition S.T.A.R. Webinars: August
Managing and Applying for Grants

Key Areas: Administration 3000
Training Topic(s): Healthy School Environment (3230)
Learning Objective(s): Participants will identify ways to obtain resources to promote a healthy school environment.
3:00-4:00 PM ET (2-3 PM CT; 1-2 PM MT; 12-1 PM PT)

School nutrition professionals know one way to manage successful meal programs that work for the children they serve is to seek external grant funding sources. These funds may be used for a variety of purposes including training in menu planning, food preparation, nutrition education, local school wellness policies and the purchase of equipment. How do districts seek grant funding? What are the responsibilities once the funding is received? What are good practices when applying for a grant?
As always, a continuing education certificate will be available after completion of the webinar.
Meet the Webinar Speakers:
Rodney K. Taylor                                            Tristana Pirkl                                  Kathy C. McCombs, MA                         Theresa Stretch, MS, RDN, CP-FS
Director, Food and Nutrition Services          Grant Programs Manager              Contracts and Grants Specialist              Education and Training Specialist II
Fairfax County Schools / Fairfax, VA              Whole Kids Foundation                  Institute of Child Nutrition                       Institute of Child Nutrition
Past School Nutrition S.T.A.R. Webinars
Archived STAR webinar from June 2018: Creative Approaches for Professional Development in School Nutrition Programs.
Strategies to Integrate Nutrition Education Curriculum Within School Nutrition Programs.
Subscribe to S.T.A.R. Webinars
Sign-up to receive notifications of upcoming S.T.A.R. Webinars, training and resources.