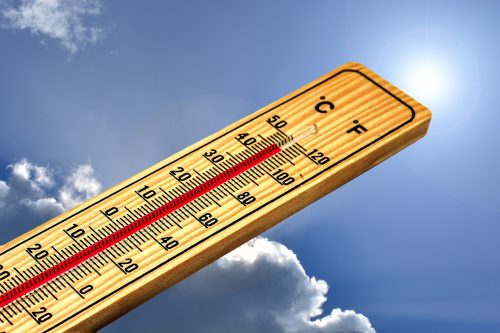 Staying cool may be challenging during summer, especially when buying and transporting groceries. Keeping foods in safe temperatures also requires more attention in the summer. This Mealtime Memo provides tips for keeping purchased foods safe between the store and your kitchen, whether in a center or home. The information applies to both delivery services and shopping trips.
Have a plan to keep perishable foods cold during hot weather months. Cold foods can be in the temperature danger zone (40 °F to 140 °F) for no more than 2 hours. You must refrigerate cold foods to 40 °F or less within 2 hours of purchase. That time frame drops to less than 1 hour when the temperature exceeds 90 °F. Keep in mind that some State and local regulations may use different food temperature guidelines for child care centers. Refer to your local health department, licensing agency, or sponsor for more information.
Know the projected outside temperature for when you plan to shop and transport food. Try to shop during the coolest part of the day, usually early morning. The store might be less crowded earlier, which may also be a time-saving bonus.
Have a chilled cooler in your car with ice packs. Keep the cooler in a cool location during shopping. Place the frozen and refrigerated foods in the cooler. If your travel time is more than 1 hour, bring enough coolers for all frozen, refrigerated, and fresh produce items that require refrigeration.
Map out your shopping trip inside the store. Start with the nonperishable and dry goods first. Next, add produce, then refrigerated and frozen items. Always keep raw meats away from ready-to-eat foods such as fresh produce, cheese, and bread. Use the plastic bags in the meat section to wrap packages to prevent them from dripping on other foods.
Transfer items quickly to the coolers in your vehicle. Go directly to your kitchen to unload and return refrigerated and frozen items to the proper storage temperatures first, then store shelf-stable and dry goods.
Start and stay clean. At the store, wipe the cart handle with a sanitizer wipe. Wash your hands before shopping or use hand sanitizer before entering the store. Carry a small bottle of hand sanitizer with you and use it if handwashing isn't available.
If your store allows reusable bags, make sure to clean yours frequently. Launder cloth bags in a washing machine and dry them in a dryer or air-dry. Scrub plastic-lined bags with hot water and soap and air-dry. Consider marking each bag for specific items, such as a produce bag, a milk bag, a raw meats bag, etc. It is good practice to use insulated reusable bags for refrigerated and frozen foods.
Remember to clean and sanitize the inside of your coolers and the surfaces of reusable ice packs before and after each shopping trip. These items touch the bags of groceries, surfaces in your car, and possibly the driveway, sidewalk, or garage floor. During transport, food or raw meat juices may also spill or drip in the coolers or on the ice packs. Because coolers will hold food during future shopping trips and ice packs will go back into your freezer, clean and sanitize them to avoid any potential cross-contamination.
Store Pick-Up and Delivery Services
Many food suppliers offer store pick-up and delivery services. Before you take advantage of these potential time-saving options, do your food safety homework.
Contact the store and ask questions about their food safety practices.
Is raw meat kept separate from other foods (in the cart and when bagged)?
Are cold foods kept at 40 °F or below?
Are frozen foods kept frozen?
Are cold foods kept separate from hot foods?
Where is the food stored before the scheduled pick-up or delivery time?
What is the policy or procedure if food is not handled properly or is not at the correct temperatures at pick-up or delivery?
If you shop at a store that offers these services, pay attention to what you see when personal shoppers collect items for other customers keeping the questions above in mind when observing.
Be mindful of the following when using the store delivery service.
Find out if the delivery vehicle is equipped with coolers or refrigerated to keep food cold.
Ask how many deliveries the store schedules for a single transport.
Determine how long your food could be in the temperature danger zone if the store schedules multiple stops.
Be prepared to meet the delivery.
Take the temperature of a refrigerated and frozen item before accepting the delivery.
The following menu ideas provide a variety of foods, colors, and textures appropriate for young children. Some recipes contain multiple meal components listed in parentheses after the recipe.